Love Across the Global South: Popular Cinema Cultures of India and Senegal
Bernice Layne Brown Gallery, University of California, Berkeley, September 2017–February 2018
Love across the Global South: Popular Cinema Cultures of India and Senegal explores interconnections between South Asian and African popular cultures through film posters, footage, and memorabilia. Focusing on the circulation of Bombay cinema, South Asia's largest film industry, in Senegal, West Africa, the exhibition foregrounds the role of transnational film cultures and fan clubs in shaping affinities across the Global South. Highlighting archival material held by UC Berkeley—including a collection of twentieth-century popular film magazines and films housed at the Media Resources Center—the exhibition harnesses library holdings to nuance campus debates on race, globalization, and visual representation while experimenting with new curatorial practices that emphasize Afro-Asian connections in an expanded Indian Ocean imaginary.
The exhibition is curated by Sugata Ray (Assistant Professor, History of Art), Ivy Mills (Lecturer, History of Art), Liladhar Pendse (Librarian, Central Asian and Eastern European Studies), and Adnan Malik (Curator for South Asian Collections, South/Southeast Asia Library).
Cinephiles, Fandoms, and Global Media Cultures: Indian Cinema from a Transcultural Perspective, a roundtable focusing on the transcultural nature of Indian cinema, was held in conjunction with the opening reception of the exhibition. Organized by Rachael Hyland and Shivani Sud, speakers included Ajay Gehlawat (Sonoma State University), Jayson Beaster-Jones (UC Merced), Usha Iyer (Stanford University), and Lalitha Gopalan (University of Texas, Austin). The roundtable was made possible with the support from the Townsend Center of Humanities, the Institute of South Asia Studies, the History of Art Department, the South and Southeast Asian Studies Department, and the Asian Art and Visual Cultures Working Group.
The UC Berkeley Library Story on the exhibition (click on image for full story):
(processing) – Bay Area Artists and the Archive
Worth Ryder Art Gallery, 116 Kroeber Hall, UC Berkeley Campus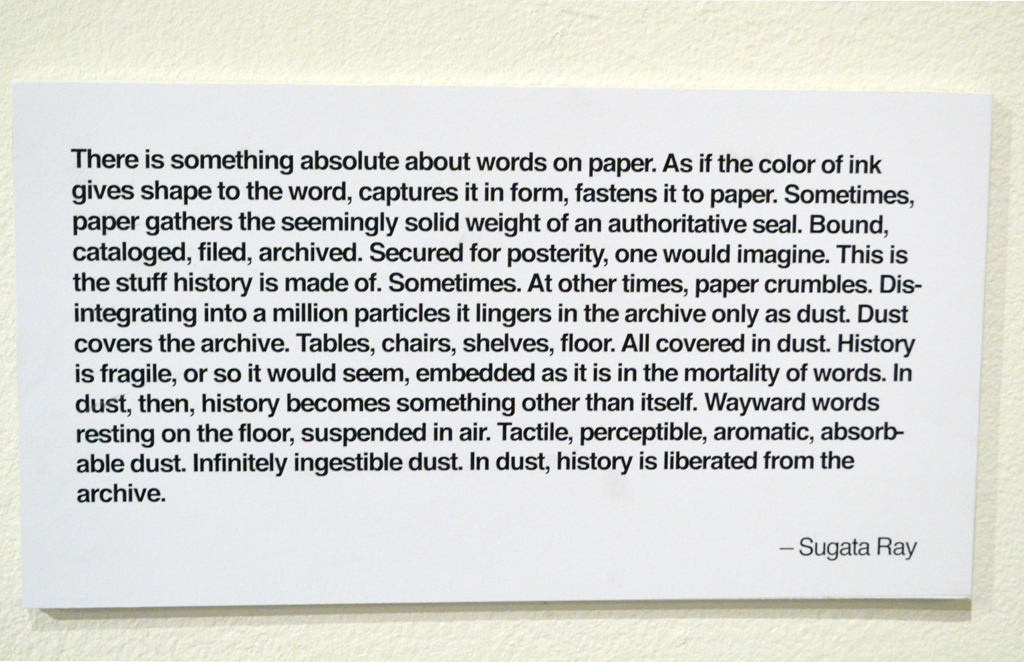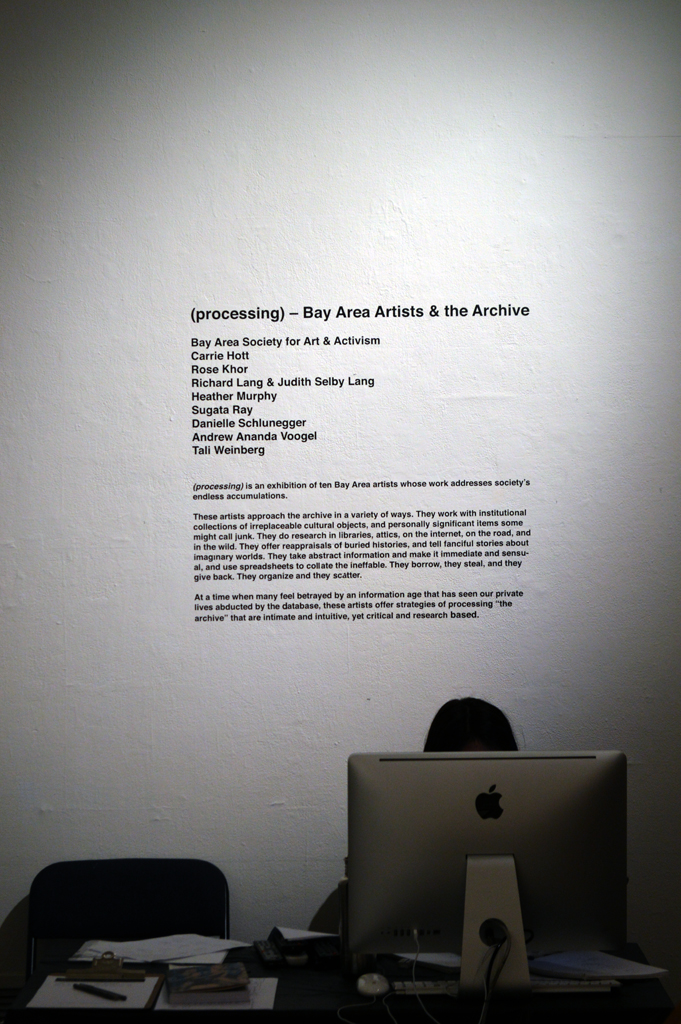 (processing) – Bay Area Artists and the Archive is an exhibition of ten Bay Area artists whose work addresses society's endless accumulations. These artists approach the archive in a variety of ways. They work with institutional collections of irreplaceable cultural objects, and personally significant items some might call junk. They do research in libraries, attics, on the internet, on the road, and in the wild. They offer reappraisals of buried histories, and tell fanciful stories about imaginary worlds. They take abstract information and make it immediate and sensual, and use spreadsheets to collate the ineffable. They borrow, they steal, and they give back. They organize and they scatter. At a time when many feel betrayed by an information age that has seen our private lives abducted by the database, these artists offer strategies of processing "the archive" that are intimate and intuitive, yet critical and research based.
Participating Artists:
Bay Area Society for Art & Activism
Carrie Hott
Rose Khor
Richard Lang and Judith Selby Lang
Heather Murphy
Sugata Ray
Danielle Schlunegger
Andrew Ananda Voogel
Tali Weinberg
"The Buddha in the Colonial Archive: Art History and the Making of the 'Effeminate' Male Body," Collecting South Asia | Archiving South Asia, University of California, Berkeley, 2014
Scholar Favorites, Doris Duke Foundation for Islamic Art; Honolulu, 2013 (Film series on the Doris Duke Foundation art collection)